Between budgeting, logistics, and #PinterestGoals, furniture shopping can be overwhelming. Fortunately, with some advanced planning and a little bit of luck, the process can be relatively painless. Take a deep breath and take it step by step – we're here to help!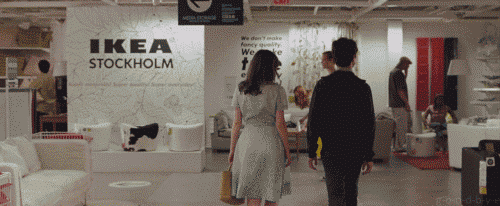 Step 1: Set your budget
The truth is, all you really need furniture-wise is a mattress ($179). For everything else, set a budget that is comfortable and think long and hard about deviating from it. Pick a number for furniture, for household items (kitchen stuff, tools, etc.), and for decorations. Having a budget is how you keep yourself from buying  five glass vases that you really don't need.
If you're splitting furniture with a roommate, I'd highly recommend divvying up the financial responsibility by item, rather than just splitting general costs down the middle. This method means a. when you move out, it's very clear who takes what and b. when discussing what to get, it's clear who has final say — the one paying for it.
Step 2: Make a list
List every item that you think you want in order of necessity. As far as furniture is concerned, be really careful of buying anything that isn't on this list – if you couldn't remember it, chances are you don't really need it.
Step 3: Decide on an #aesthetic
Yes, you can finally look at Pinterest and Instagram. When scrolling through, make sure you're looking at rooms that have similar walls and flooring to the room you're trying to furnish. Generally speaking, you're deciding on what kind of finish you want on your furniture and the color/tone of your accent pieces. Ikea furniture tends to come in light wood, medium wood, dark wood, white, and black finishes. Knowing what you want and whether it's available can help you narrow down your search.
Want some inspiration? Check out our #DreamHomeAesthetics Pinterest board!
Step 4: Plan your layout
Measure the dimensions of your room or, if your lease hasn't started yet, try to get a floor plan. Sketch out a rough idea of where you want things, and from there figure out the maximum dimensions of the furniture you're considering. Although this might be a pain in the ass, you're not married to the layout you choose and the adult thing to do is to buy furniture only when you're sure it's going to fit.
Step 5: Decide whether you want to buy online or in store
You don't have to limit yourself to one store, but I've found that sticking to only one minimizes decision fatigue, saves on shipping cost, and allows you to get all of your furniture at the same time. If you are shopping at Ikea, you can either:
shop in-store, where you grab the boxes of furniture and take them home in your own vehicle
shop in-store and have the furniture delivered, where you grab the boxes of furniture yourself and bring them to the delivery line
shop in-store but get picking and delivery, where you go to Ikea and give them a list of the items you want and they find the boxes and deliver them
shop online, with a more limited selection than what's available in-store
Your choice depends on your budget, how much furniture you're getting, your proximity to an Ikea, and your access to a vehicle. Sometimes it's worth the extra cost to avoid spending hours in Ikea, filling several carts with furniture, and then crying as you try to coordinate a delivery time only to realize that you'll be spending a week paying rent on an unfurnished apartment that you can't really sleep in (which has, clearly, happened to me. It was mildly traumatizing).
If you do decide to shop online, make sure to call to confirm that your order exists and that the payment went through. Call several times. Be annoying about it. Ikea once accidentally cancelled my furniture order, which led to my waiting hours for a delivery that wouldn't show up, followed by the physical trip to Ikea and the minor breakdown mentioned above. It was likely a fluke (I still love Ikea, clearly), but better to be safe than sorry.
Step 6: Search for furniture
Once you know what you need and have your #aesthetic, you can finally start shopping online. Yes, even if you plan on getting it in store. Ikea stores are notoriously overwhelming – don't try to figure your entire life out in one. Shop online in advance. Make a list. Try hard to stick to it. If you are shopping entirely online, make sure your search is narrowed to "available online" items – there are many things worse than falling in love with a desk only to realize you can't have it, but it's still disappointing.
For some of my personal favorite Ikea furniture items, check out our #IkeaFaves Pinterest board.
Step 6.5: Make a spreadsheet
To avoid an endless series of tabs or feeling like you're missing something, I'd recommend making a different little table for each item that you want to buy and include:
name of the item,
price
link to item
a rating of how much you like it (compared to your other options)
a picture of the item.
I know this seems tedious, but it'll help you keep your search organized and provide an easy way to weigh the pros and cons of each item when you're caught between several good options.
Step 7: Browse for other items
Ikea is popular for a reason: it has cheap but effective versions of common household items. After you've decided on your furniture, have a browse on the website to see if there's anything else you want. Ikea can really suck you in, so be brutal with yourself about whether you'll actually love and use the item, and make sure to stick to your budget… but also have fun! Here are some surprisingly useful and fun things you can get at Ikea:
The Fixa Tool kit for the cheapest real person tools you'll ever get and the Fixa Screwdriver to ease your assembly journey.
The Upphetta French Press so that you can be the kind of person that makes French pressed coffee in the mornings.
Honestly any of the bedding to easily check off your basics.
Ditto for bath towels, shower curtains, etc.
This step stool was the best purchase I've made in my life. I use it to reach high things, as a tiny table by the couch, as a stand to watch movies on when I take a bath…
This wood crate is also hella versatile.
You deserve this hedgehog nightlight.
Step 8: Make a final edit
Before you finalize your purchase or head off to brave the physical halls of Ikea, go through your list of items one more time and make sure you're truly happy with each purchase.
And you're done! Actually assembling the furniture is a minefield all on its own, but you can handle it when the furniture arrives.
—
Don't worry, you've totally got this. If you've already furnished your first home, we'd love to hear your tips (and horror stories) in the comments!
xoxo,
Kim
— — —
Image courtesy of Becca Tapert.