Winter isn't coming – it's here.
Okay, sorry, that was a lame opening, but I'm not wrong. The show that's been a part of our lives for the last ten years is coming to a close, and people are freaking out. I don't blame them, either – I have so many thoughts and hopes and theories, all rolled up into the tight, nervous fear that I'm 100% wrong and Orie's right. His prediction: The Night King on the Iron throne, despite last night's episode.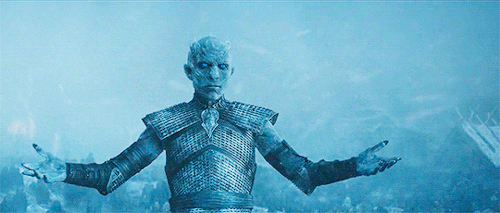 But we're not going to go into Game of Theories today, mainly because I think Jon Snow and Danaerys is boring and I don't want to think about Theon. Instead, we're going to discuss how to prepare yourself for the final episodes of this epic series.
1.Get dressed
These next three Sundays are big days, and your Sunday best is no longer just reserved for church. Break out your favorite Winterfell-inspired furs and sweat from both physical heat and GoT-manufactured tension!
Or, if you're not ready to go quite that hard, do what my Thrones crew has done and grab some cheap-and-comfy House sweatpants. (The only drawback is there's no House Greyjoy. … I don't want to talk about it.)
2. Get glittery
If sweatpants aren't quite bougie enough for you, same. That's why I paid way too much for a gimmicky, beautiful eyeshadow palette – the Urban Decay x Game of Thrones palette. And it's beautiful.
Be as extra as Lord Varys as you cover your eyes in sparkly Frozen North blue, with Nymeria in the crease and Lannister Red added for depth. Pop Winterfell gold in the inner corner and highlight with Hardhome. Damn, girl, you look ready to slay – slay a dragon.
(But seriously, this palette has shockingly good reviews and I can attest to how blendable and gorgeous the shades are. It's pricey but fun, and Macy's has it on sale for 15% off right now. Bend that damn knee to high-ish end beauty.)
3. Get bloody
No Game of Thrones night is complete without alcohol to take away the sting of losing your precious faves. With only three episodes left, we all know people are about to drop like flies, especially after the Battle of Winterfell where a shocking few actually kicked it.
Make your drinks thematic and do what we do: Bloody Marys. My perfect Bloody Mary is made with 3 parts Zing Zang Bloody mix, 1 part Tito's vodka, and a splash of olive juice – at least until 45 minutes into the episode, when it's basically all vodka and my own tears.
Valor morghulis. 4. Get hung
Alright, so you've got the drinks, you've got the look – what about the décor?!
Don't half-ass this, you wildling, this is the final season ever. Get into theme: find an abandoned stone fort, light a handful of torches, and figure out a way to stream HBO without electricity!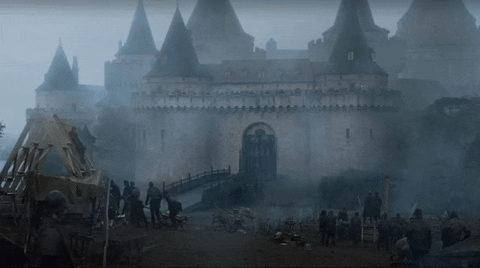 Or, do what we did and grab some House flags from Amazon. I pinned ours in the living room and my kids think it's someone's birthday, every day. Needless to say, I'm reppin' House Greyjoy, since my girl Yara is still in the game and what is dead may never die. We've also got a House Targaryen flag pinned up and… a sad computer-paper printout of the Night King. Sorry, Orie.
5. Get betting
Game of Thrones is fun because of the lore, the characters, and the high, high stakes. Bring some of this high-stakes debauchery into your otherwise mundane life by creating a dead pool.
We started our dead pool on a whiteboard for the Battle of Winterfell but, when barely anyone died, decided to just… keep it going until the series' end. We get a point for every character's fate we decide correctly – alive or dead – and so far, I'm tied up for victorious.
Start your own or join mine! I'm taking applications until Sunday at 8 PM EST. Drop a comment below. But, if you bet on Sansa dying, you're fired.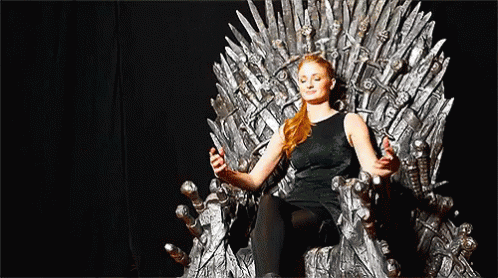 6. Get ready
You've done everything you can do to physically prepare, so what about mentally??
I suggest rewatching old episodes and remembering a simpler, sweeter time, back before Bran was a certified creeper and Robb was – well. Anyway.
As for emotionally, find a good therapist. That, or spend hours googling 'why am I so torn up over the death of a fictional character' and learn that you're a sad loser. I definitely do not recommend the second one; it stung a little.
How do yall get ready for Game of Thrones? Do you even bother getting ready? Am I taking this too seriously? The truth is out there but for the next three weeks, I'm not interested in reality. I wanna know who sits on that damn throne. Xoxo, Grace
—
image courtesy of mauricio