When I'm in a bad mood, my favorite form of self-soothing is a movie and a treat. But picking the movie can be tricky. You don't want anything too sad, or too complex, or too slow, or too existential. One of the worst parts of a bad mood is scrolling aimlessly through Netflix, looking for something to provide temporary relief but feeling paralyzed with indecision.
Don't worry. We've got you. Pick the movie from our 'bad mood films' below that resonates most with you, grab a treat, and cuddle up in bed for a movie night.
You deserve it.
1. My Cousin Vinny
Two college students passing through Alabama are arrested and put on trial for a murder they didn't commit. Ralph Macchio's cousin Vinnie, an unexperienced but ballsy lawyer from New York, comes down to help him defend his case, accompanied by the ever-charming Marissa Tomei. This movie has everything from witty banter to the all-too satisfying experience of watching an underdog rising from the ashes.
Recommended treat:  A sundae cup from the grocery store. Preferably from Friendly's.
2. Mulan
There are few things in this world that are more satisfying than watching Mulan use her brains and moxie to save all of China while Eddie Murphy as a little red dragon cheers her on.  If you need a good cry, follow it up with Mulan 2 which not only has one of the most underrated Disney songs of all time, but also really yanks at your heartstrings as you see the not-quite-happily-ever-after progression of her relationship with Shang.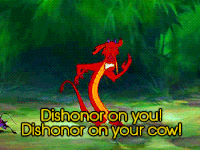 Recommended treat: Chinese takeout. On the nose? Yes. But delicious? Also, yes.
3. Breakfast At Tiffany's
This movie is good to for when you want to turn your brain entirely off. It's a little racist, a lot dramatic, and full of Audrey Hepburn as ingenue Holly Golightly, complete with a pet cat she calls Cat in a display of wide-eyed eccentricity. There is quite possibly the Best In-The-Rain Kiss Scene of all time, with Moon River playing in the background as Holly Golightly and George Peppard kiss desperately while smushing Cat in between them. Also, her outfits are fabulous.
Recommended treat: A pack of Marlboro's to smoke through your Hepburn-esque cigarette holder. Just kidding – Skittles.
4. Your Favorite Marvel Movie
Look, I could fight with you all day about how Dr. Strange is actually the best Marvel hero of all time, but I know we all have our favorite superheroes. And, by extension, favorite hero movie. My dad's is Deadpool. Mine is Dr. Strange. Grace's is Captain America: Winter Soldier. Yours will give you the action, banter, and adrenaline rush that makes for a good night.
Recommended treat: Popcorn. I'm not even a huge fan of popcorn, but action movies go with popcorn.
5. The Holiday
This movie has EVERYTHING. A cute old man teaching Kate Winslet about love, Jack Black as a surprisingly charming romantic lead, a quaint English cottage, Mr. Napkinhead, non-irritating child actors, and more. It is the ultimate feel-good romcom, equal parts light and sweet without being overly saccharine, and it gets major bonus points for taking place during Christmas. Sad in August? Great! Have Jude Law as a beautiful widower and some Christmas cheer!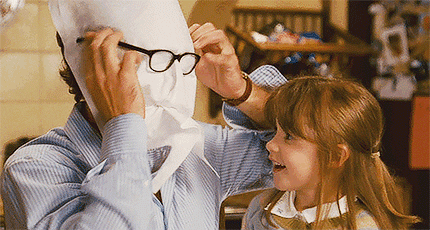 Recommended treat: Hot cocoa with like, a splaaash of Bailey's. … Or more than a splash. You do you, girl.
6. Forgetting Sarah Marshall
Jason Segel isn't having a bad day. He's been having a bad few years. When Kristin Bell breaks up with him, his bad mood plummets into a special kind of frustrating sadness that's a little too relatable. We watch as he travels to Hawaii to try to break out of his slump… only to discover that he's staying at the same hotel as his ex-girlfriend and her sex icon rockstar boyfriend. Mistakes and self-discovery ensue. It also features some hilarious but brilliant music, from Russel Brand's incredibly sexual love ballad to Jason Segel's Dracula musical with puppets. So.
Recommended treat: Sugary cereal and milk and/or some fruity alcoholic beverage.
Let us know your favorite movies and treats for our next bad day movie night!
xoxo,
Kim & Grace